Pot Stocks Soar as California Gets Ready to Get High
Marijuana companies are higher than ever as California rolls toward recreational legalization.
The BI Canada Cannabis Competitive Peers index is having its best day ever as Californians prepare to light up, or eat up, marijuana products starting Jan. 1 at 12 a.m. Among those reaching intraday records are Canopy Growth Corp., Cronos Group Inc., and producer Aphria Inc.
Some marijuana companies are creating multinational franchises on the heels of legalization, said RBC analyst Nik Modi this month. Green House Brands North America has a joint venture in Canada with Canopy Growth and Organa Brands, which sought to invest in and acquire cannabis brands in the U.S.
There is overlap among the alcohol, tobacco and cannabis industries AdvisorShares Investments Managing Director and Chief Operating Officer Dan Ahrens said in a Bloomberg TV interview, with mergers and acquisitions or "at least" joint ventures likely. The three work well together, he said, noting his AdvisorShares Vice ETF includes an allocation of about 20 percent cannabis-related stocks.
The industry is in its "infancy" and "just getting started," Ahrens said. Canada's also legalizing recreational pot next year.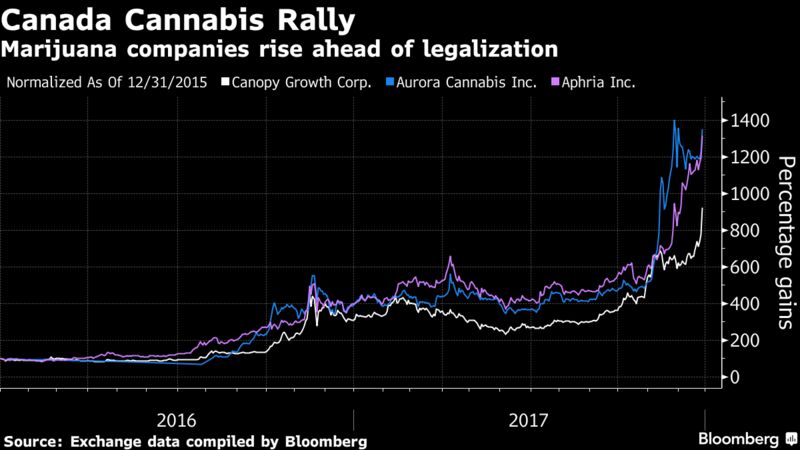 Ahrens isn't alone in that sentiment. Bloomberg Intelligence analyst Kenneth Shea, in his 2018 outlook, highlighted key trends for the cannabis group, which included more and larger mergers and acquisitions and a rising number of states legalizing medical or recreational use. Earlier this year, in fact, Constellation Brands purchased a 9.9 percent stake in Canopy Growth that could catapult the marijuana producer into a league of its own, according to GMP analyst Martin Landry.
Of the 34-member Canada Cannabis Competitive Peers (BINACCCP) index, 32 are trading up today, while 60 of the 69-member BI Global Cannabis Competitive Peers index are also in positive territory.