The Rich Get Richer Under The Cannabis Act
Summary
The latest industry data on marijuana issued by Health Canada shows the existing Licensed Producers are having a field day and The Cannabis Act ensures this will continue.
The data shows if registered patients purchase the amount of dried medical marijuana approved, Licensed Producer revenues could be $600 million greater.
The latest data also shows production, sales and inventory levels for cannabis oil. It demonstrates oils continue to gain favor over smoking dried marijuana.
Data on approvals of new Licensed Producers, currently running at approximately 1.5 new approvals per month, will prevent a flood of new growers.
Looking ahead, I think LPs will be valued on fundamentals. Five years out, I expect all LPs will survive while over half of smallcap companies will be bite the dust.
The latest data on cannabis production and sales from Health Canada show the trends in medical cannabis sales. The data shows Licensed Producers continue to make gains and widen the gap over competitors. My assessment of the approach to the Cannabis Act means the LP group will continue to extend their lead for another year or more. (read my comments on what legalization means)
Here is a review of what has been taking place in the Canadian marijuana industry, initially under the Marijuana for Medical Purposes Regulations (MMPR) and currently the Access to Cannabis to Medical Purposes Regulations (ACMPR).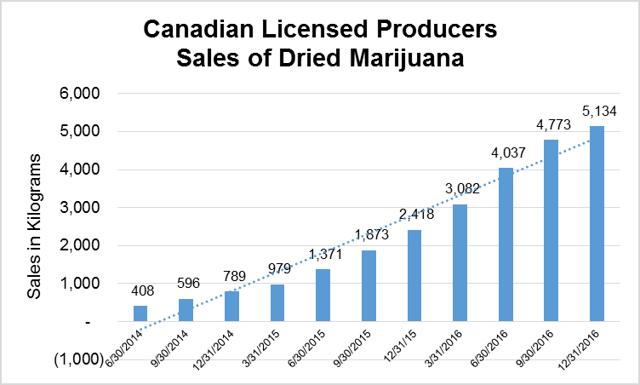 Sales of dried marijuana have risen steadily under the legal medical marijuana system in Canada. In the two and one-half years under review, sales have risen 12.6 fold. The data for the latest quarter reported is probably understated because of the recall issue that impacted the fourth quarter of 2016. The 5,134 kilograms of production for the quarter ended December 31, 2016 has a retail value of C$38.2 million at $8.00 per gram.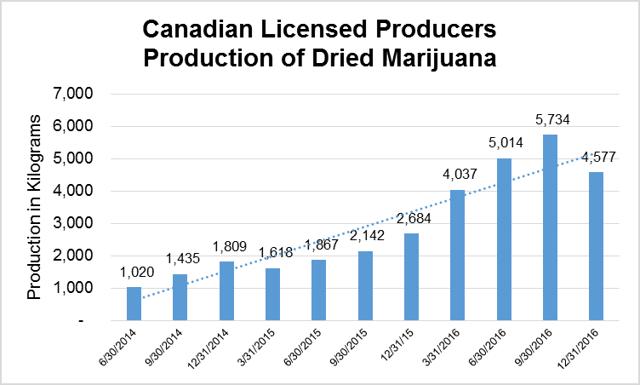 The production of cannabis by the Licensed Producers for the same period has also risen steadily. Production started at a higher level than sales and have basically maintained that edge. The fourth quarter 2016 decline provides a clearer picture of the impact of the product recalls. This should have helped with the general oversupply of cannabis but inventory levels buffered the impact. It is my observation that black market prices remain under pressure.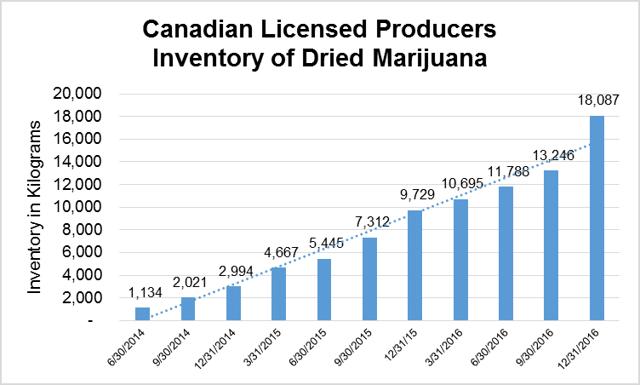 The pattern of production growing faster than sales had the expected impact on inventories that have increased rapidly. The fourth quarter inventory level represents 3.5 times fourth quarter sales and 4.0 times fourth quarter production. The non-recurring recall impact on production had a significant impact on inventory at the end of 2016. But this data is somewhat confusing: sales increasing more than production and the recall write-offs should result in lower inventory. Perhaps this will be clarified in the next two quarters as the impact of the recalls work their way through the data.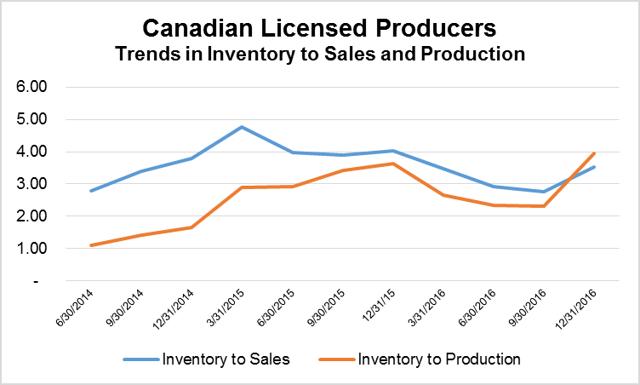 As the next chart shows, the level of inventory to both sales and production has been improving except for the most recent quarter that was impacted by the recall. Generally, lower inventory levels relative to sales and production are indicative of a healthier operating environment except when inventories are so low it threatens ability to meet demand. We are not near that point in the marijuana industry yet. In fact, inventories seem to be a little on the high side.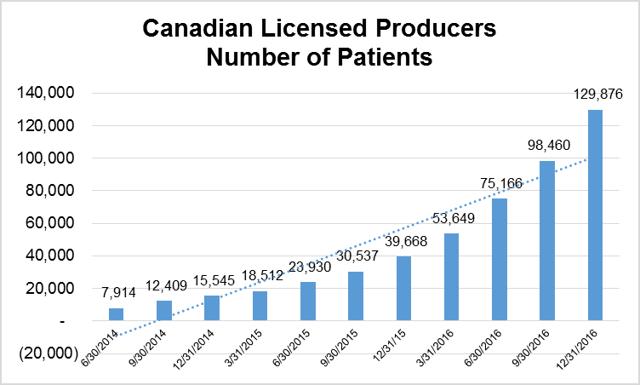 The driving force behind the growth in the legal medical marijuana market in Canada has been the growth in the number of patients. In fact, the growth in the number of patients has exceeded that of sales, production or inventory. It has also exceeded Health Canada's estimate to this point in time. Our assessment is that these numbers reflect a large component of recreational users getting access to marijuana under the guise of medical patients. This suggests that when non-medical marijuana is legalized, there may be a slowdown or drop in the number of medical patients.
The next chart illustrates in the period under review, production actually increased the least with a 449% gain, was followed by sales up 1,258%.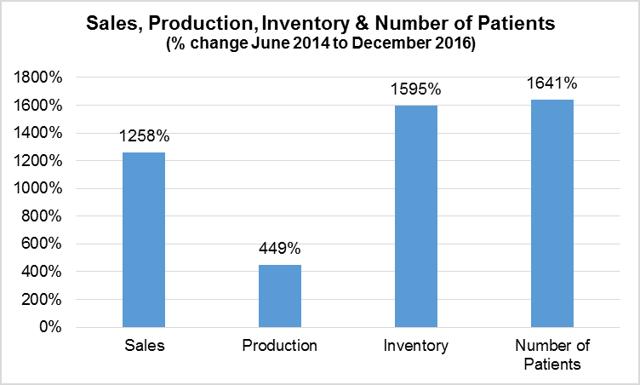 At the same time, the level of inventory was up 1,595% and the number of patients rose 1641%. This is very important because it is the number of patients that will ultimately drive sales. It also confirms a point we made on many occasions which is that the original Health Canada estimate for number of patients was conservative. Moving forward, there is substantial room for LPs to increase production and sales.
Health Canada also provides data on cannabis oil sales and production. This data confirms a trend everyone but the framers of The Cannabis Act seems to know. People are moving away from smoking marijuana and demonstrating a strong preference for edibles. Admittedly, the data for edibles has fewer quarters of statistics and starts at a lower base but the higher growth rates compared to dried marijuana are noteworthy.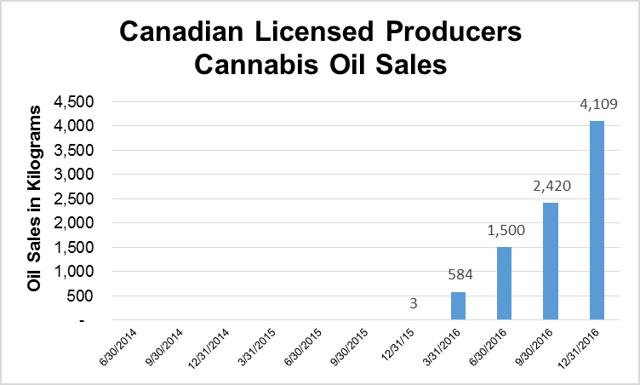 In the latest quarter reported, sales of cannabis oils increased 69.8% compared with a rise of 7.6% for dried cannabis. In the previously reported quarter, oil sales increased 61.3% compared with a gain of 18.2% for dried cannabis. Both growth rates are very strong but the increase in sales of oils substantiates what people in the industry know – smoking is on the decline.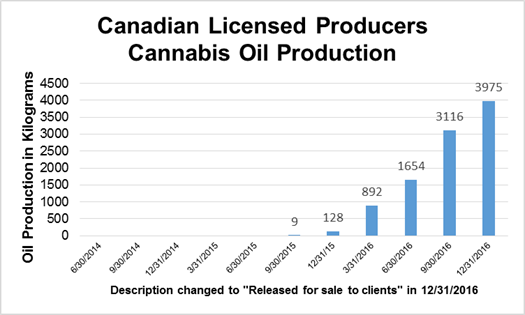 In the second quarter of 2016, cannabis oil production increased 85.4% and in the third quarter production was up 88.4% but in the fourth quarter the rate of increase dropped to 27.6%. It is interesting to note that in the final quarter shown, Health Canada changed the description from 'Production' to 'Released for sale to clients.' Some industry sources believe this change is to conceal the fact that the LPs are producing oil at higher rates and stockpiling it in the expectation of legalization of recreational sales.
Here is the inventory data. You don't have to be a professional accountant to realize that production minus sales equals change in inventory. So based on the production and sales data, inventory should have declined 134 kilograms or something close to it. Instead sales are shown increasing 394 kilograms. One can only surmise that under the former description, 'production' rose much faster than 'Released for sale to clients.'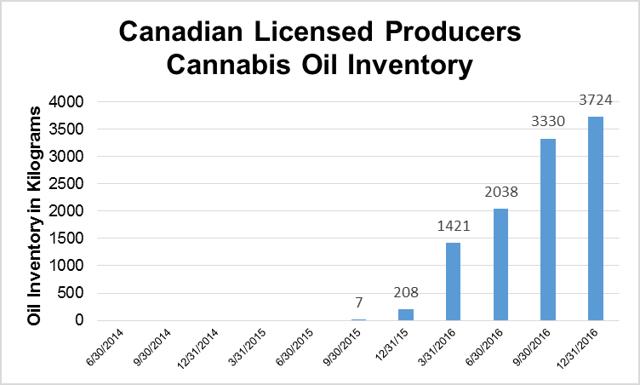 The next chart shows the actual amount of cannabis delivered per authorized client in grams per day.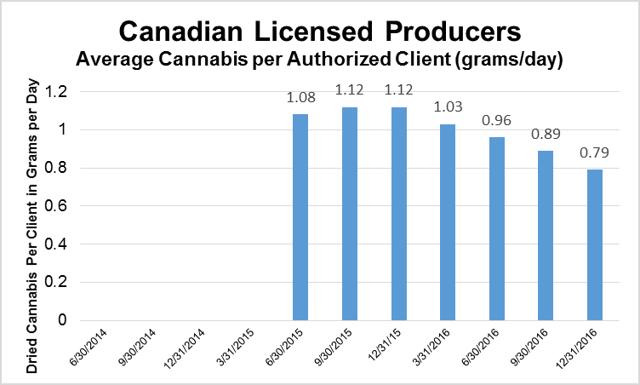 From this chart we can extrapolate the potential value of the increasing advantage accruing to Licensed Producer already growing and selling medical marijuana. The 129,876 approved patients are ordering .79 grams of medical marijuana per day. However they are approved to order an average of 2.5 grams per day. This means if the already approved patients were to order the amount they are already approved to purchase priced at the going price (I used C$7.50/gram), revenues of the Licensed Producers would increase over $600 million, an order of magnitude gain of over threefold!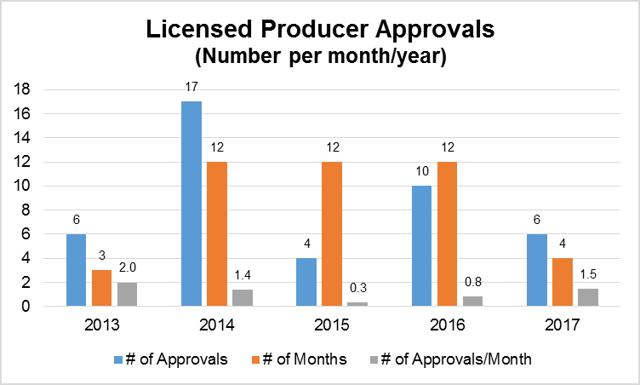 Finally, in the 42 or 43 months since Cannimed and Prairie Plant were the first LPs approved to grow medical marijuana legally in Canada on September 19, 2013, there has been a grand total of 43 LPs approved. The chart above shows how those approvals unfolded.
The data shows the most approvals in any year was 2014 when 17 new licenses were issued. The lowest year was 2015 when only 4 new licenses were issued. Of course 2013 and 2017 are "short" years so we should look at the number of approvals per month. The most approvals were in 2013 when there were 2 per month in a short three month approval period and the slowest rate was 2015 when only 1 license every three months was issued.
Overall, four licenses have been issued to existing license holders. The average over this time period has been 1 per month which is below the 2017 rate. Let's assume the current above average rate of approvals continues. That would mean another 12 approvals will be made in the balance of 2017.
According to the most recent data, Health Canada has received 1,630 applications for licenses to grow and/or sell medical cannabis as of March 31, 2017. Of the total, 841 have been returned as incomplete, 265 were refused outright, 69 were withdrawn by the applicants and 414 are still in various stages of getting approval. Health Canada points out some applications might be double counted.
The 43 licenses approved so far represent 2.6% of the total. Assuming the current approval rate continues there will only be 18 approvals a year implying that it will take over five years to issue another 100 licenses. This also plays into the hands of the existing group of Licensed Producers as it suggests there will not be a large number of new licensees in any year to flood the market with medical marijuana.
Conclusion: My favorites don't change much from month to month: Organigram Holdings (OTCQB:OGRMF) (see also Why Organigram Merits a 'Must Buy' Rating), Canopy Growth (OTCPK:TWMJF) (see also Canopy Growth: a Cannabis ETF Surrogate?) and Aphria Inc. (OTCQB:APHQF) Of the smaller cap companies, I think Lexaria (OTCQB:LXRP) will benefit from the expected activity. (see also Lexaria – the Best Cannabis Technology You Can Eat)
There are currently fourteen Licensed Producers that are traded on the stock market and MedReleaf has issued a Preliminary Prospectus which suggests it will be well worth a look when it comes to market. Each of these Licensed Producers will benefit over the next year by the sluggish pace at which The Cannabis Act is expected to be enacted (see What the Cannabis Act Says and What it Means for Your Marijuana Stocks).
The fourteen public LPs are:
* Aphria Inc. * Harvest One Cannabis (TSXV: OTCPK:HVST)
* Aurora Cannabis (OTCQX:ACBFF) * Hydrohypothecary (TSXV: THCX)
* Cannimed Thera (OTC:CMMDF) * Maricann Group (OTCQB:MRRCF)
* Canopy Growth * Organigram
* Cronos Group (OTCPK:PRMCF) * Supreme Pharma (OTCPK:SPRWF)
* Emblem Corp. (OTCPK:EMMBF) * THC Biomed (OTCQB:THCBF)
* Emerald Health (TBQBF) * WeedMD (TSXV: WMD)
There are two reasons I keep coming back to the Licensed Producer group. I have mentioned on several occasions the Seeking Alpha report by Anthony Cataldo that came to a very useful conclusion. Cataldo found as a relatively new industry, the marijuana stocks are trading inefficiently and "events" are more useful in making buy and sell decisions than fundamental analysis. (read Cataldo's report here) I agree with this conclusion but it is my expectation that over the next 12 to 24 months, the Licensed Producer stocks will start to be priced more off sales, EBITDA, earnings and balance sheet liquidity. This leads me to the general conclusion that five years from now, an investment in a Licensed Producer today will still have investment value one way or the other. By this I mean the current company will survive in its own right or have been acquired by a company that still exists.
On the other hand, my experience in the markets tells me that in five years, over half the microcap marijuana stocks and perhaps well over half will either have negligible investment value or will be off the board. It reminds me of the mining cycles triggered by a major discovery. Hundreds of small resource companies found a nearby property (often ten or twenty miles was considered 'nearby') and promoted their share prices to extremely high levels. When the dust settled, there were usually only one or two new mines and the rest of the participants were history. With cannabis, we don't have to worry about his yet but this day is coming.
Disclosure: I/we have no positions in any stocks mentioned, and no plans to initiate any positions within the next 72 hours.
I wrote this article myself, and it expresses my own opinions. I am not receiving compensation for it (other than from Seeking Alpha). I have no business relationship with any company whose stock is mentioned in this article.
Editor's Note: This article covers one or more stocks trading at less than $1 per share and/or with less than a $100 million market cap. Please be aware of the risks associated with these stocks.
courtesy of seekingalpha.com