The State Of Marijuana Stocks In 2018
The secret's out: the cannabis industry continues to grow at an above average pace and now we're seeing even bigger names get involved. Right now, is a very important time to be paying attention to this arena and for good reason.
The fact that companies like Constellation Brands (STZ) and even Scott's Miracle Grow (SMG) are furthering their interest in such a fringe industry like cannabis shows that there's a clear direction for the marketplace.
But something to keep in mind as an investor is what drives this industry. Since it is not completely legal across the US, there is still a risk that cannabis operations could be completely shut down. And this has kept some investors on the sidelines.
Past, Present, Future of A Catalyst Driven Market
It appears people are trading marijuana stocks rather than investing in them. This further adds to why this industry is very event driven. Just look at a few clear examples since legalization really began to take hold: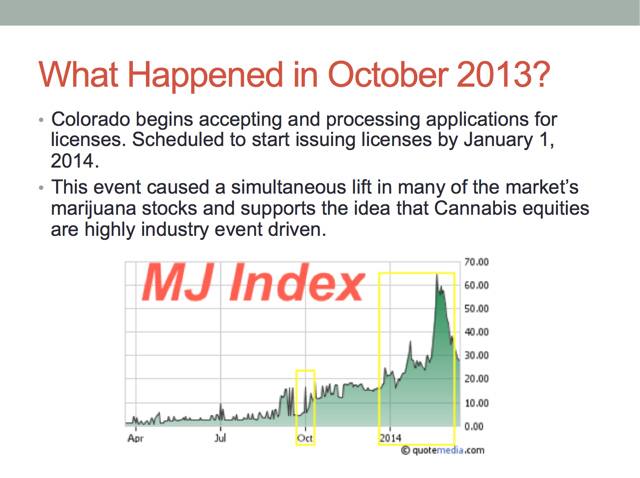 Simple legalization alone triggered a shift in marijuana stocks like Cannabis Sciences (OTCPK:CBIS), Medical Marijuana Inc. (OTCPK:MJNA), GW Pharma (GWPH). Researchers from The ArcView Group found that the U.S. market for legal cannabis grew 74% in 2014 to $2.7 billion. This was up from $1.5 billion in 2013. Moreover, another report projects that North American consumers spent $53.3 billion on last year.
Now that legalization is starting to find its way into multiple states (not just Colorado), the next round of catalysts has come in the form of "proving the cannabis model."
Case and point was seen in March of 2016: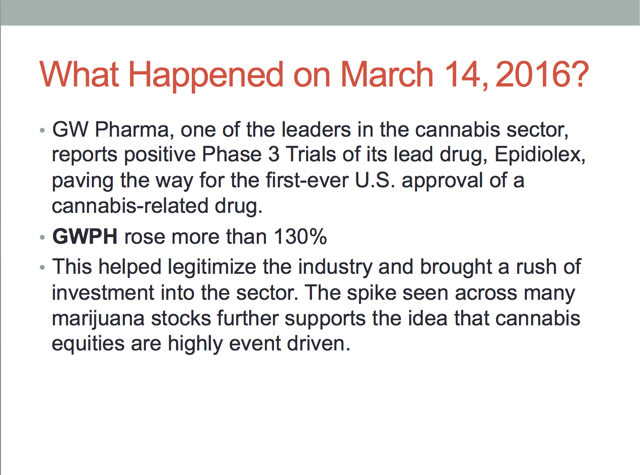 Focus on the medical application of cannabis really took hold in 2016. During the first quarter, GW Pharma released positive results from Phase 3 trials of Epidiolex. As a result, companies like Zynerba (ZYNE), United Cannabis (OTCQB:CNAB), Cannabis Sativa Inc (OTCQB:CBDS), and Cannagrow Holdings (OTCPK:CGRW), saw dramatic increases in both price and volume.
Compared to the "legalization trend" from 2014-2015, 2016 centered on the opportunity with pharmaceutical applications of cannabis. However, in 2017, there wasn't a market catalyst until recently. At the end of October, Constellation Brands announced that it had taken a 9.9% interest in Canadian cannabis company Canopy Growth (OTCPK:TWMJF).
Though it wasn't a massive transaction for a company like Constellation, who's usually spending billions for strategic investments, the $190 million transaction demonstrates how mainstream interest is beginning to grow in this once "taboo" industry.
This was not only a catalyst for the industry, it also opened awareness about cannabis companies in Canada. Companies like Supreme Pharmaceuticals (OTCPK:SPRWF), Aurora Cannabis (OTCQX:ACBFF), InMed Pharmaceuticals (OTCQB:IMLFF), Aphria Inc. (OTCQB:APHQF) and Organigram (OTCQB:OGRMF) all saw and continue to see increases in share price and volume.
What could we see in 2018? The risk is still looming on a federal level, but with states like California going fully legal, it could just be a matter of time until legalization sweeps across the entire nation. Even Constellation Brands CEO Rob Sands expressed this same sentiment in an interview in the Wall Street Journal, "We think that it's highly likely, given what's happened at the state level."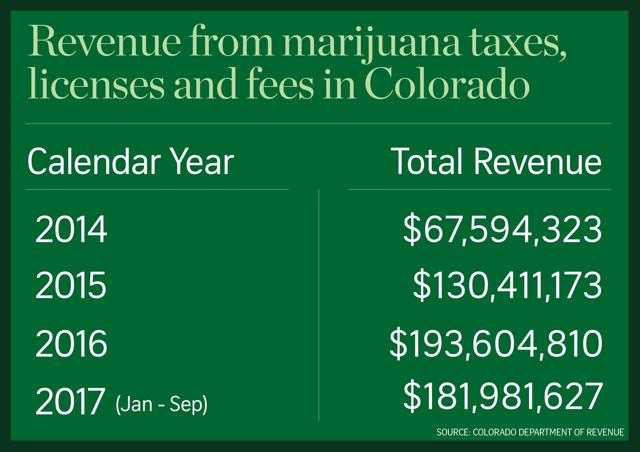 Next year looks like it could be the culmination of the last 3 years of industry development. Pharmaceuticals are always in focus especially with Canopy Growth and GW Pharma taking lead roles in the industry. Considering a company like Constellation Brands is investing into the space, it wouldn't come as a surprise to see other mainstream, non-cannabis related corporations look at an opportunity in something like CBDs.
ETFs & New Legalization Catalysts
With states like California seeing the first wave of a legal recreational marketplace, publicly traded companies on the recreational side of the industry could also be poised to take off. In addition, this could be a new age for Canadian cannabis companies to start gaining interest as well. A quick look at the MJ Index shows a strong increase in price for North American cannabis stocks with the most active stocks being mainly Canadian-based issuers.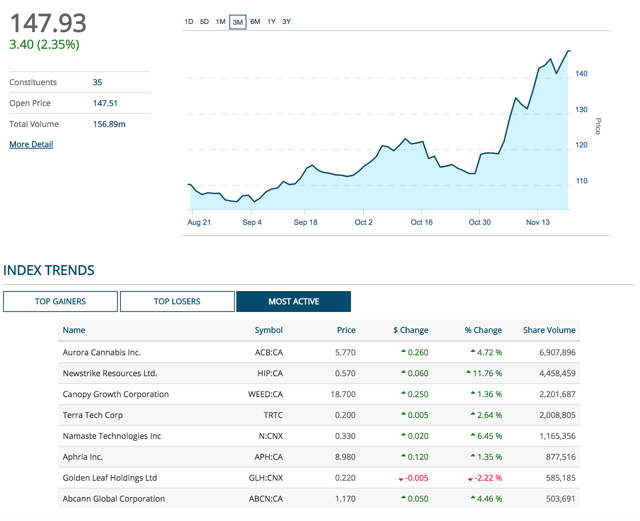 Furthermore, as one article points out, "A division of the New York Stock Exchange is launching trading for its first marijuana fund the day after Christmas."
"Although, the marijuana fund is spanking new to the United States, it's not unparalleled. In April, our neighbors up north launched the first ever marijuana ETF in the world. Canada's marijuana ETF has increased by 44 percent since its introduction and gained $216 million in assets."
Previously, no ETF has been approved and companies in the industry have had a very hard time getting legitimate exposure on a higher exchange as was seen with social media company, MassRoots (OTCQB:MSRT). The company was denied their application to list on the NASDAQ.
The Road Ahead – 2018
The year is coming to an end and the tides seem to be turning toward a more justifiable industry. Additionally, the historic trend for stocks in this sector from Q4 through Q2 of the following year tends to realize an increase in trading activity due to things like state legislation favoring new legalization (as seen with California).
Driving the market in 2018 would likely be a mix of continued developments within the pharmaceutical niche along with a more mature market for recreational users. Additionally, the expansion of recreational legalization for Canada could be a preview of what's to come for the US, if it should ever fully legalize recreational use across the country.
Many of the Canadian companies already hold billion-dollar market caps as financial institutions and professionals have begun accumulating positions since it is federally legal. The main point for investors is to find which cannabis stocks on the list will be best positioned to take advantage of the next industry catalyst to occur.
Disclosure: I/we have no positions in any stocks mentioned, and no plans to initiate any positions within the next 72 hours.
I wrote this article myself, and it expresses my own opinions. I am not receiving compensation for it (other than from Seeking Alpha). I have no business relationship with any company whose stock is mentioned in this article.
Editor's Note: This article covers one or more stocks trading at less than $1 per share and/or with less than a $100 million market cap. Please be aware of the risks associated with these stocks.
courtesy of Small Cap Reporter (https://seekingalpha.com/article/4127083-state-marijuana-stocks-look-2018)